Top Professional Motivational Keynote Speaker
Christopher Meade, PhD
Thanks for considering me for your event. I am honored. As a professional communicator and corporate educator, everything I do is designed to catalyze growth in others and propel them towards a better version of themselves so that they can more meaningfully touch the lives of others in the work they do each day.
What You Can Expect
I will provide you with a professionally prepared, dynamically delivered keynote presentation focused on achieving the outcomes you want with your audience. This includes a pre-event, personal phone consultation with me prior to your event, so I can better understand how I can best serve you and your audience. I will customize my presentation to meet your organization's specific needs. My goal is to facilitate the outcome you want to create. Select me as a speaker, and I will give you a 110% effort. I will inspire and energize your audience with professional content aimed at helping you achieve the goals you've set for your event.
Speaker Experience And Background
I bring nearly 25 years of entrepreneurship, business ownership, management and leadership experience to my role as President at Leadership Alive, Inc.,®., a leader-building organization. I hold a PhD from the University of Idaho in Adult & Organizational Learning with a concentration in Leadership. As well, I hold two Masters degrees and a certificate in Disruptive Strategy from Harvard Business School. As a former business dean, award-winning MBA professor, and author of five books, I have been speaking publicly for more than 25 years and have keynoted close to 100 events in the United States. I have also spoken in 15 cities throughout China.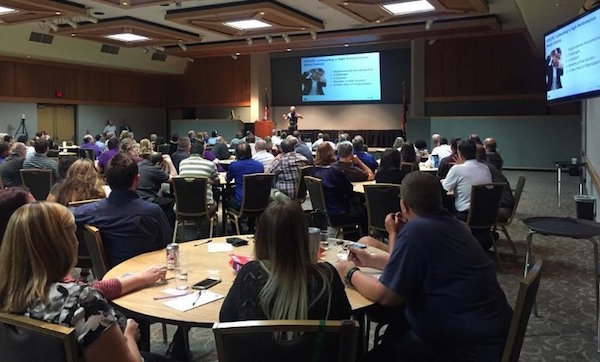 Motivational Keynote Speaking on the elements of a world-class organizational culture in an ever-changing environment
CEO Today Management Consulting Award Recipient 2018
I am the recipient of the CEO Today Management Consulting Awards 2018 which recognizes and honors top firms and most respected management consultants and their C-level executives who have demonstrated tangible successes across a number of industries and sectors (Top 25 USA | Top 100 Internationally).
I have trained over 500+ teams and organizations, many are top-tier firms such as: Nike, Microsoft, Salesforce, Game Stop, Cisco, NFL Detroit Lions, United States Treasury & Commerce, Abbott Laboratories, Hewlett Packard, Taj Palaces & Resorts, United Healthcare, Federal Reserve Bank, Dell Computers, Parker Aerospace, Code.org and Children For The Nations.
10 Keynote Presentations:
Keynote Structure
A standard keynote talk is approximately 45-60 minutes. I can customize the topic around your conference theme and/or program objectives. I can also deliver the keynote in a more interactive format (up to 1.5 hours) if that would serve your event better. To do this we would add an element to the keynote such as a small group breakout to discuss some questions around the keynote topic or your conference theme. This keeps everyone engaged during a longer presentation. High quality visual slides are used as well. I am confident that I will inspire, engage and connect with your audience. Bottom line: I'll deliver on all that I have promised.
Transform You. Transform Business. When leaders get better everyone wins. That's why transformation is an inside job. — Christopher Meade, PhD
Chris Meade's speaking ability is second to none. His passion and knowledge will keep you interested in every word. Chris' guidance affected my ability to achieve my goals in both my work and home life. I have yet to see a speaker better than Chris Meade.
Dr. Chris Meade's presentations are not to be missed! His enthusiasm and expertise in leadership application can propel your team to new heights. His presentations will capture the attention of any group. The opportunity to be part of Chris' audience is one I hope for your organization.
Dr. Chris Meade is one of the most energetic, thought provoking, and engaging speakers I've heard. He has a tremendous ability to take concepts, break them down, "unpack" them, and apply them to the individual or group. Every opportunity I have had to learn from him has resulted in significant personal and professional growth.
Thank You For Considering Us
We would be delighted at the opportunity to work with you and your team if you feel we would be a good fit and could help you accomplish your training goals and business objectives. Feel free to contact us on the Quick Connect Form on the right side of the page if you would like to begin a conversation. Thank you!