Strategy Alive™ – A 7-Step Strategic Map To Success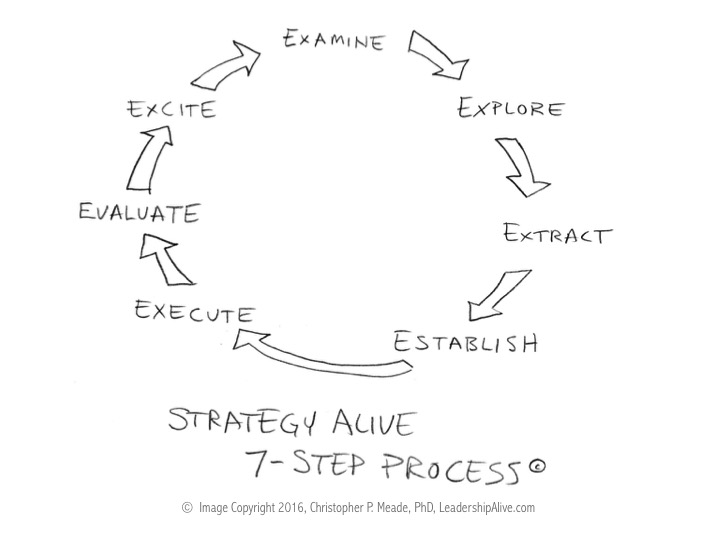 A Way Forward 
Maps and compasses are important when traversing unfamiliar terrain and entering into new territory. The same is true in business. Maps are still helpful in a world that is filled with so many unknowns and daily market adaptations. Having clear strategic direction that is both nimble and market sensitive is crucial to bringing vision and resource alignment and mission/cause fulfillment. Let me offer my version of a simple 7-step strategic mapping process that generates innovative solutions to move an organization, large or small, forward.
Strategy Alive™ consists of seven steps: Examine. Explore. Extract. Establish. Execute. Evaluate. Excite. Here's how this open-ended strategic process works:
Examine
First, we take time to examine the past in order to identify lessons learned. Hindsight is always a great teacher. So is data. This enables us to capture, catalog, and carry insights into the present. Strategic thinkers carve out lessons learned from past experience and brings those findings forward into the future.
Explore
Next, the model focuses its attention on the current environment in, outside of, and around the organization. We ask honest questions, explore different factors, emerging trends and technologies, uncertainties, customer interests, needs and values, and consider future possibilities. This process enables us to get an accurate picture of the current realities, strengths, challenges, threats, and opportunities that exist inside and outside an organization and leverages.
Extract
We look at the pool of potential possibilities that we've generated and extract the unique core capabilities, strengths, and differentiators that are embedded within an organization, brand, product or service. We identify, prioritize and leverage those opportunities that have the highest probability of success, ones which will generate the largest return on investment, and opportunities which will fulfill our mission and/or cause and make the world a better place.
Establish
Next, we establish an action plan with SMART goals (specific, measurable, attainable, realistic, and time-bound) that align all resources (people, financial, property, brand, etc.) and energies with the central purpose and the guiding principles of the organization (mission, vision, values).
Execute
A carefully constructed (yet flexible) plan of execution is crafted, communicated, and implemented with excellence. (Scenario plans are also created with the high probability of using some or all of them depending upon market fluctuation, market clarity, new opportunities that have emerged, unknowns becoming known, etc.)
Evaluate
We honestly evaluate results with clear metrics that measure progress. Success factors are identified. Unforeseen challenges are addressed. People are held accountable. Tweaks, changes and courageous realignments, recalibrations, and resource reallocations are made when and where necessary.
Excite
Finally, the Strategy Alive loop is completed as we excite others by celebrating the small wins and sharing the credit to those who have earned it all throughout the process. Good leaders celebrate the people and the process of doing good and hared work together as much as they do reaching the end result. Leading strategic change often has more to do with the relational side of the equation that we can ever imagine.
Strategy Alive Map

This strategy map serves as a kind of checklist to help maneuver our way through the problem-solving maze of life and business in a sequential and linear fashion. It takes things from the world of the conceptual and converts them to the realm of the concrete. The complex becomes simple. Enigmas can be unraveled.
Following a strategy map gives us a common language to communicate with others in our organization. It helps identify root problems. It helps us learn from the past. It uncovers potential gaps in our thinking. It gathers relevant information that informs. It paints a compelling picture of our true strengths and internal attributes. Strategy maps not only guide us, but they aid us in generating new insights and sparking creative solutions.
An Ongoing Process
One of the most overlooked aspects to the success of any strategic process being implemented is to ensure that it doesn't become perceived as a "one-time-event" and then shelved. For this iterative process to achieve its intended aim, and in order to help people and/or organizations reach full potential, these life-affirming processes must become an ongoing practice.
Change is Permanent
Finally, a strategy map provides a clear and detailed set of "next-steps" to aid us as we plan for the future and navigate into uncharted waters. Heraclitus was right when he said, "The only thing permanent in life is change." Our global economy has forever changed. Every organization needs women and men who can help course them into new frontiers of innovation and viability. Organizations, teams (and people) that are forward-thinking, healthy and strategic-minded, live with intentionality. They welcome people, practices, processes, and catalytic mechanisms that help them expand their core capacity and achieve their full potential. That's why strategy is alive!