We're Wired For Community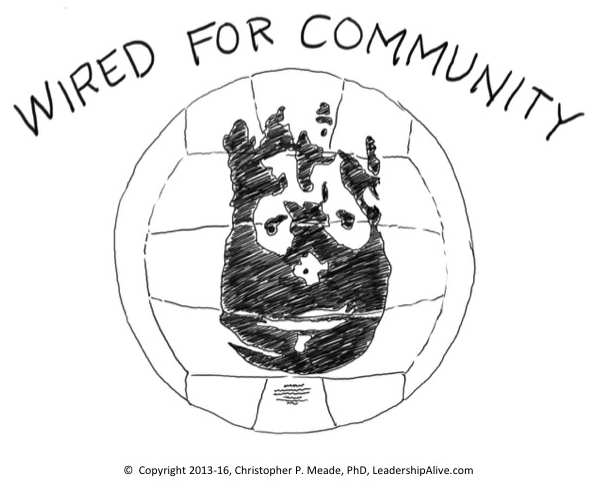 Interdependence Not Independence
One of the secrets for a satisfying life and a high performing work team is not independence, nor is it over-dependence on others, it is interdependence. The software of our souls is coded with a need to connect with others and experience genuine community, not just in our personal lives, but in our work lives, too. People are wired for community. We're made this way; it's in our DNA. Of course, it was the Industrial Revolution that helped turn workers into cogs without soul. But Management 2.0 is changing that forever. A new movement is brewing. People crave relationships so much that many will settle for artificial or dysfunctional ones if it means not having relationship at all.
We Need Other People
I'm reminded of the movie Cast Away, starring Tom Hanks…and of course, Wilson. If you remember, one of the most gripping scenes in the movie is when Tom Hanks finally escapes from the island and sails out into the ocean. During his sailing ordeal, Wilson, the volleyball, gets separated from the raft. Tom Hanks cries out to Wilson and asks him to forgive him for letting him get away. As dysfunctional as it is, it's a clear picture of how badly people really do need others and how we all long to be part of a genuine community pursuing something meaningful. When organizations understand this important need in people, building teams and cultivating community becomes an inseparable part of their mission and definition of success. Profit alone is no longer the only bottom line that matters.
Work Teams: The New Normal
We grow and work best in the context of genuine community. Because most industries are moving away from work that is being done solo and shifting to work that's done in some form of group or team, being able to work well on a team and/or develop a team is a valuable skill-set in the new economy. Bringing out the best in others, working well on projects in groups, learning how to collaborate and create synergy among colleagues, and solving problems alongside others is fast becoming the new normal.
The Benefits of Community
Having strong people skills is a valuable asset. Cultivating a culture where people sharpen and bring out the best in each other is the dream of almost every organization. Honestly speaking, this isn't always the norm in many organizations. But I'm convinced we can all grow and improve in developing our team-building abilities just like any other skill…if we want to. As we do, this newly honed ability will set us apart from the average leader and manager. When we desire to serve people and bring out the best in them, the best will be brought out in us, too.