Servantology: The Periodic Elements of Trusted Servant Leadership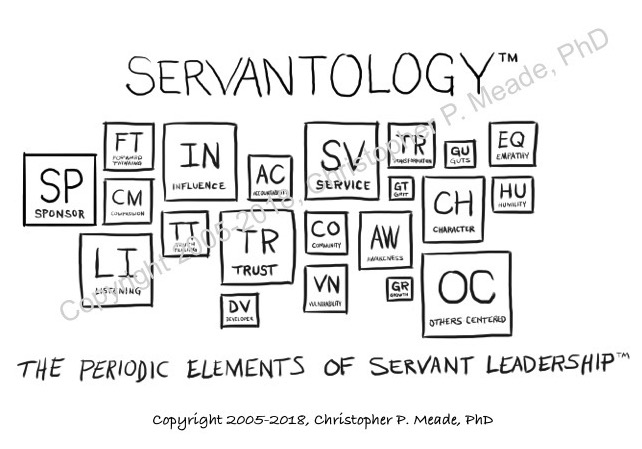 Servant Leadership
During the last two decades, there has been an explosion of interest in the philosophy and practices of "Servant Leadership." Many business thought-leaders believe that Servant Leadership is the new leadership model for the 21st century. This is especially true in light of the fact that the American workforce is radically changing and by 2025 over 65% of all workers in the U.S. will consist of the Millennial generation who view leadership from a new perspective.
It's Not About You
Harvard Business Review recently stated, "The idea of Servant Leadership is a great place for new managers to start…The reason is simple. When you have a servant mentality, it's not about you. Removing self-interest and personal glory from your motivation on the job is the single most important thing you can do to inspire trust. When you focus first on the success of your organization and your team, it comes through clearly." Martin Luther King, Jr. said, "Not everybody can be famous. But everybody can be great, because greatness is determined by service." Authentic servant leadership is always for the benefit of others and not the leader.
Putting Others First
Servant Leadership has its roots in the groundbreaking work of former AT&T executive, Robert K. Greenleaf, who coined the term almost 35 years ago. Servant Leadership emphasizes serving others, including employees, customers and the community. The Greenleaf Institute asserts that "Servant leadership is a philosophy and set of practices that enriches the lives of individuals, builds better organizations and ultimately creates a more just, compassionate and caring world."
Servants First
The principles contained in the Servant Leadership model are grounded in the notion that leaders are servants first. The desire to lead others surfaces out of a motivation to serve others. Respected leadership is about putting the legitimate needs, goals, and priorities of the followers and constituents first. Ken Blanchard said, "Servant leadership is all about making the goals clear and then rolling your sleeves up and doing whatever it takes to help people win. In that situation, they don't work for you, you work for them."
Leadership Is Built Upon Character
True leaders know that leadership is not about them; it's about others. That's one reason why leadership has more to do with character than management skills. Servant Leadership is not about exalting yourself, but lifting others up. It emanates first from a desire to serve others. That's why Robert K. Greenleaf said "good leaders must first become good servants."
A New Kind of Leadership
James Hunter defines servant leadership as "…the skill of influencing people within a specific context to work enthusiastically toward goals identified as being for the common good, with character that inspires confidence." Bottom line: The best leaders use influence instead of intimidation to achieve results. They build trusted relationships that motivate followers. They have solid character that enables them to sustain a life of service and they genuinely care about their coworkers and community at large. They want things for people and not just from them. Servant leadership: A new kind of leader for a new kind of world.