Keynote Presentation — Developing Trusted Servant Leaders
Lead with Influence. Create Trust. Achieve Results. | Onsite and Virtual Formats.
Keynote Presentation
This engaging and inspirational leadership keynote talk is founded upon the Servant Leadership Model created by former AT&T executive, Robert Greenleaf.
This presentation weaves together transformational leadership practices with the Servant Leadership principles and presents a practical application that encourages positive change and trust-building in your organization and workplace.
Improve Results and Build People Up
This Servant Leadership keynote gears to improve each participant's leadership effectiveness.  It helps them learn how to use influence instead of title, status, or role, to inspire others, cultivate trust, and build a healthy culture where people flourish and grow. All while achieving your organization's mission and strategic objectives.
Servant Leaders Build Trust
This Servant Leadership keynote explores the foundations of Servant Leadership. You will discover what it is, why it works, and how it creates a competitive advantage in your organization. This dynamic and engaging keynote unpacks specific behaviors that Trusted Servant Leaders demonstrate that builds relationships and drives performance. It provides insights into how a Servant Leadership culture builds trust, communicates effectively with others, and delivers exceptional business outcomes.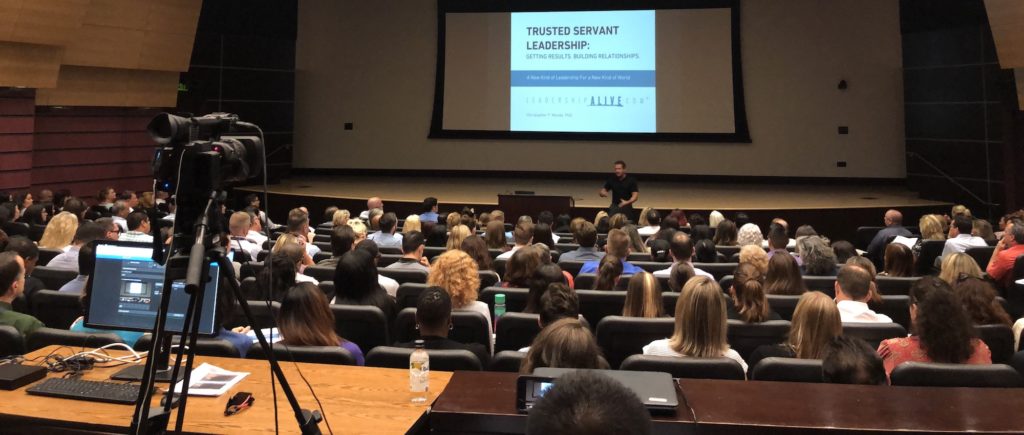 Keynote Take-Aways:
Discover how to cultivate influence to inspire and motivate others.
Unpack elements that build trust among peers, associates, and clients.
Gain deeper self-awareness of what your strengths are as a leader.
Garner insights that nurture a healthy organizational leadership culture.
Learn effective communication strategies that accomplish results and help people flourish.
Increase overall morale, employee retention, client loyalty.
Boost productivity and job satisfaction through increased employee and customer engagement.
Servant Leadership Keynote: What You Can Expect

Christopher Meade, Ph.D., provides you with a professionally prepared, dynamically delivered keynote presentation focused on achieving the outcomes you want with your audience. Presentations are customized to meet your organization's specific needs and use high-quality visual images.
Keynote Presentation Structure
A standard keynote talk is approximately 45-60 minutes. We customize topics around your conference theme and event objectives.  We can also deliver keynotes in a more interactive format (up to 1.5 hours) if that serves your goal and event better. To do this, we add an element to the keynote, such as a small group breakout to discuss some questions around the keynote topic theme and offer a Q & A session at the end. High-quality visual slides are used during the keynote as well.
---
Keynote Speaker | Corporate Educator | MBA Professor | Author | Former Business Dean
Dr. Christopher Meade brings nearly 25 years of entrepreneurship, business ownership, management, and leadership experience his role as President at Leadership Alive, Inc.®. He holds a Ph.D. from the University of Idaho in Adult & Organizational Learning with a concentration in Leadership.
Award-Winning MBA Instructor and Top Speaker
A former university business dean, award-winning MBA professor, author, and leadership coach, Christopher has been speaking publicly for more than 25 years and has keynoted close to 100 events in the United States as well as spoken in 15 cities throughout China. He is a recipient of the CEO Today Management Consulting Award.
Fortune 500 Clients and Marquee Brands
Described as an engaging, insightful and energetic speaker, Chris has worked with over 500+ teams and organizations, many are top-tier firms such as Apple, Nike, Microsoft, Google, Facebook, eBay, Instagram, NFL Detroit Lions, eBay, Starbucks, Johnson & Johnson, Home Depot, Abbott Laboratories, Sony PlayStation, Salesforce, HP, Comcast NBC, United Healthcare, U.S. Departments of Treasury, Commerce, Defense, Veterans, Justice, State of California, Washington, Oregon, Idaho, Citibank, US Olympic Committee, USAA Insurance, Cisco, Federal Reserve Bank, Hitachi, Emory University, Ohio University, University of California Berkeley, Code.org, and Children For The Nations. Christopher devotes his time to speaking, training, teaching, and writing.