Everything DiSC Management Team Training in Portland, Oregon
Bring Out the Best in Each Employee: 1-Day Management Team Training Course - Portland, OR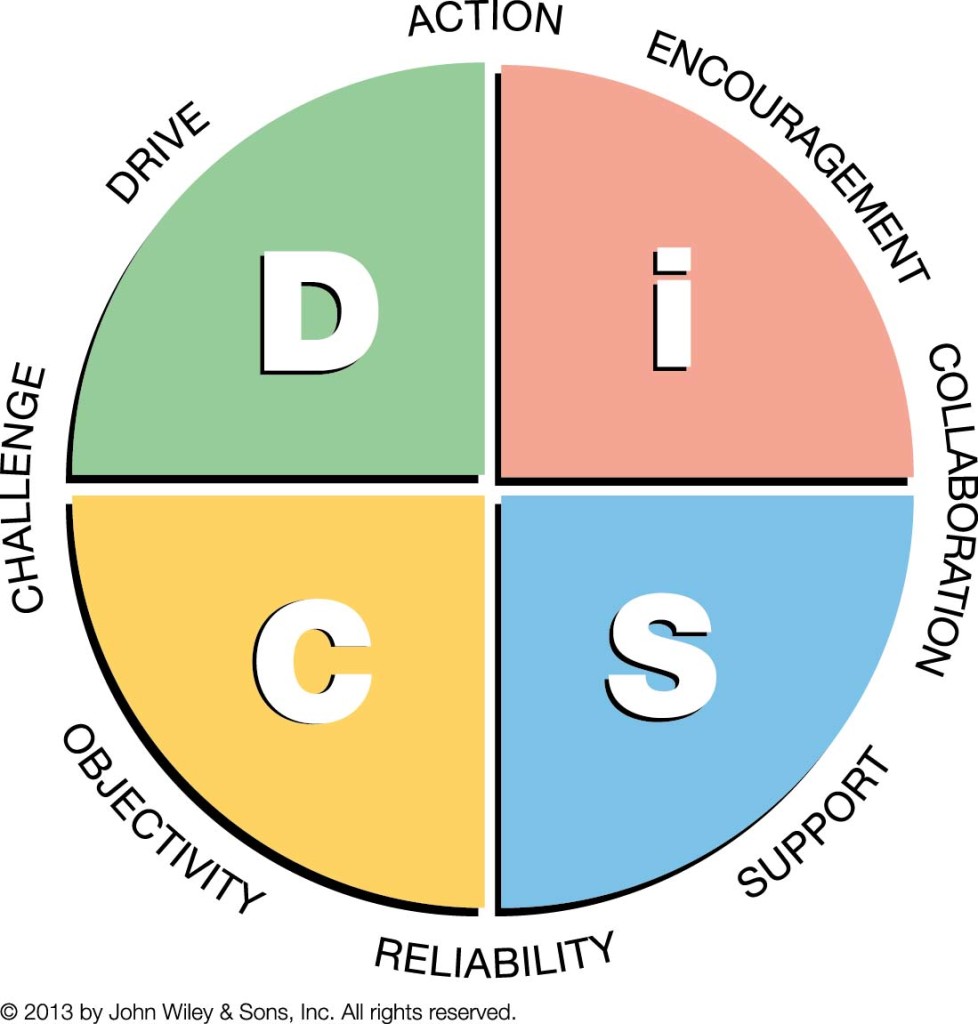 Manage Yourself. Manage Others.
Skilled managers need to build solid, one-to-one relationships to be effective. The Everything DiSC® Management team training one day class offers a talent development solution proven to increase the effectiveness of anyone in a management role–whether managing direct reports, or the relationship with their own manager or part of a management team.
Improve Management Skills & Flexibility
Everything DiSC® Management is a one-day classroom team training that uses online assessment pre-work, engaging and certified facilitation with contemporary video, and follow-up to create a personalized learning experience. Using a research validated learning model, participants learn about their strengths and challenges as managers and how to adapt to meet the needs of the people they manage by understanding the styles of the people they manage and adapting their styles to manage more effectively as managers. Management Team training sessions can be done at your organization or a Portland OR area hotel or offsite.
Effective Delegation and Strong Decision-Making
Participants learn how their management style influences how they manage time, delegate work, make decisions, approach problems, and what they need to do to adapt to the styles of others to bring out the best in each and every associate on their team.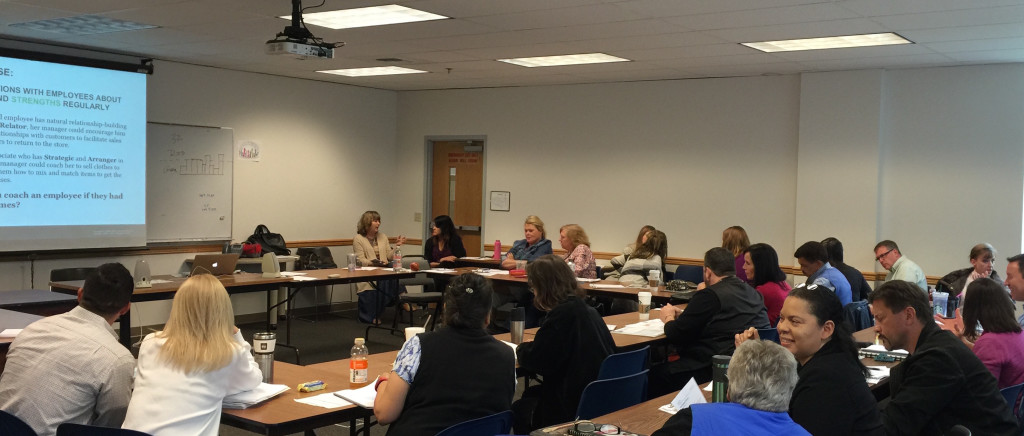 DISC MANAGEMENT TEAM MODULES: PORTLAND OREGON WORKSHOP

Modules 1 and 2: Introduction to Your Management Style 
Explores how DiSC® preferences and priorities influence management style—including decision making and problem solving—and how to identify others' DiSC styles using behavioral cues.

Module 3: Directing and Delegating
Large and small group activities, along with video and worksheets, help participants identify their strengths and challenges when directing and delegating, learn to use people-reading techniques to determine the DiSC styles of those they manage, and craft action plans for adapting their behavior to more effectively manage people with various styles.
Module 4: Creating a Motivating Environment
Participants discover how DiSC styles influence how people are motivated and develop fresh insight into what it takes to create an environment where it's easy for people to find their own natural motivation.
Module 5: Developing Others
Focuses on the often overlooked—but essential—role of managers: supporting the long-term professional growth and development of employees by providing resources and opportunities that capitalize on each individual's potential.
Module 6:  Strategies For Working With Your Manager 
Identifies successful approaches to managing up—as a direct report, working effectively with different DiSC style managers, to advocate and get buy-in, influence and communicate, and navigate through conflict.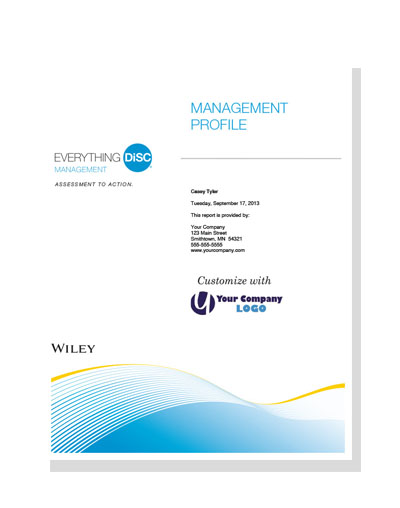 DiSC Management Online Profile Assessment
Along with this professionally prepared and dynamically delivered management training workshop, a 26-page research-validated, individually customized, management-specific profile report is provided. This will help managers at any level as participants better understand their approach to managing and developing others—their perspectives on directing and delegating, and how their work style influences the factors that others find motivating—and insights for building strong relationships with their manger.
Look At a Sample Profile Report For Yourself
Sample Everything DiSC Management Profile Report
---
The 'glue' to bring this group together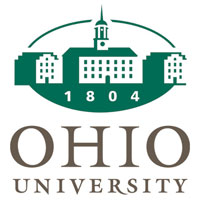 Thank you for presenting an excellent session on the DiSC Leadership to the Ohio University Health Policy Fellowship Class. The Fellows were unanimous in rating you and your session as the highest rated session of the weekend. They commented on how impressed they were that you were attuned to them to the point that you organized the session based on their interests and goals—the gold standard for an effective educator. We are grateful to have the opportunity to work with someone with you breadth of experience and knowledge—as well as such a great facilitator. The insight the Fellows gained will help mold them into an effective team. Thanks for providing the 'glue' to bring this group together. We'll be back and would love to have the opportunity to work with you again.  Nancy Cooper – Fellowship Coordinator, Ohio University
Very positive experience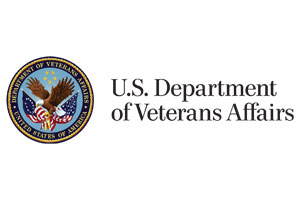 The DiSC training experience was very positive for us because you had such great insights. It was an enriching experience learning about ourselves as well as others on our team.  We appreciated the way you created an active learning environment. We highly recommend this training for other employers and their employees. Your DiSC workshop was an incredible learning experience and we had a lot of "take aways" as well as some thoughtful reflection. We appreciate your openness and passion.  Thanks again for your wonderful training! Tammy Skrinski, Christie Neal – Veterans Service Representatives

---
DiSC Management Facilitator, Certified DiSC Trainer in Portland, Oregon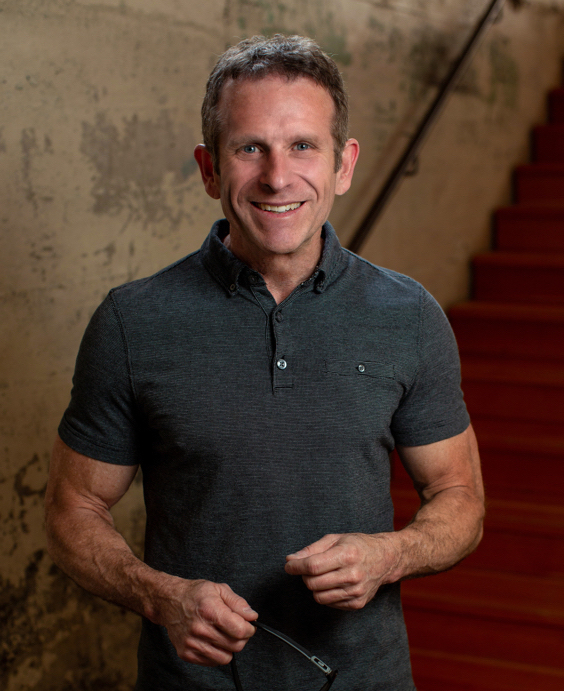 Dr. Christopher Meade is an authorized partner of the DiSC Management Profile and expert certified DiSC Management trainer and facilitator. He brings nearly 25 years of entrepreneurship, business ownership  and management experience to his role as Chief Training Officer at Leadership Alive, Inc.,®. Chris holds a PhD from the University of Idaho in Adult & Organizational Learning with a concentration in Leadership. A former business school dean and award-winning MBA instructor, Chris has coached 2,000+ people through their DiSC Profile and StrengthsFinder results and facilitated trainings for a 200+ teams-organizations.  Some recent trainings Chris has facilitated include: Nike, Microsoft, Salesforce, Federal Reserve Bank, NFL Detroit Lions, Cisco Systems, Walmart eCommerce, U.S. Department of Treasury and Veteran Affairs, United Healthcare, BodyBuilding.com, SimplyMac of Game Stop, Confluence, Emory University, SCL Health Services, Progressive Finance, U.S. Department of the Interior Bureau of Land Management, National Guard, Department of Health and Human Services-USA, Austin Heart, Children of the Nations, and Code.org. Chris is also an author, entrepreneur, MBA professor, executive leadership coach, corporate trainer, and a motivational keynote speaker. He speaks regularly at conferences, conventions, management retreats, and DiSC team-building training events throughout the Portland, Oregon area and United States.